Launch Your Freelance Writing Career from Scratch
This three week course gives you the tools, confidence, and training needed to launch a successful freelance writing career.
3 weeks of in-depth training so you can launch a freelance blogging career from scratch.
For writers without a portfolio or previous publishing experience.
Learn how to get paid to write for established blogs and websites.
Personal feedback on every lesson from Ian Chandler.
Weekly live office hours with Ian Chandler, so you can get your questions answered in a group setting.
Detailed feedback on your pitches and query letters from Ian Chandler, so you can maximize your chance of success.
Full access to our private community of writers, so you can network with your fellow students.
Build Your Portfolio – And Launch Your Freelance Writing Career
Ian Chandler, your course instructor, knows what it's like to start without a portfolio or any previous experience. When Ian started, he was a college student with no mentor and no extra support from experienced freelancers.
He had the passion and the drive to succeed, and he did it the hard way: by trial and error.
Ian encountered the same issues many writers face when getting started. He didn't have a portfolio or previous experience. He didn't know how to find clients willing to pay him.
After several false starts, Ian found success by focusing on freelance blogging. Over time, he developed a formula for successfully getting paid by existing blogs.
Not only did he quickly build a solid portfolio, he learned how to develop long-term relationships with editors, eventually becoming a blog editor himself.
This course is based on Ian's real-world experience launching his freelance writing career. It quickly addresses the many questions new freelance writers face at the beginning of their careers.
By the end of this course, you'll know how to get your first publication, become a regular contributor to successful blogs, and establish a long-term career as a freelance writer. Plus, you'll even get hep finding blogs that suit your niche and your writing style.
Enrollment is open for a limited time.

Approach Blog Editors with Confidence
This course demystifies the process of getting published and paid by blogs and websites.
You'll learn how to find blogs that pay writers, how to get published by those blogs, and how to build long term relationships that help you build a regular income with your writing.
Ian Chandler will be there every step of the way, providing feedback on your research, query letters, and writing style.
Learn how to write pitches that get you published and paid.
Learn how to become a regular contributor to established blogs.
Learn how to refine your writing style to suit blog writing.
About Ian Chandler
Ian Chandler is freelance writer, blogger, editor, and the head instructor at Writing Launch.
Ian has written two popular books for freelance writers: The No B.S. Guide to Freelance Writing and The Freelance Writer's Battle.
Through his work at Writing Launch, Ian has helped many writers successfully launch their freelance writing careers.
FAQ
What is the course schedule?
The course can be completed on your own time, as soon as you enroll as a member of Writing Launch. Everything is provided on our digital learning platform. The course itself takes three weeks to complete. You can start as soon as you join.
How much time will the course require?
Expect to spend around 30 minutes per day on the course. Some lessons will require more time, some will require less. Daily lessons can be done on your own time. The weekly live office hours will be scheduled, though questions can be submitted ahead of time as well.
When does the course start?
The course starts as soon as you enroll. It is completely self-directed, which means you can fit the course into your schedule, based on your unique needs. You also get unlimited support and feedback from the course instructor for as long as you are a member of Writing Launch.
What if I am new to freelance writing?
Blog writing is a great way to launch a freelance writing career. You'll learn how to get your first portofolio pieces, and gain long term writing jobs for established blogs and websites.
What if I need to start making a full time income right now??
This is not a get rich quick scheme. You're not going to start making tons of money right away. However, the course will give you the tools, knowledge, and resources you need to build a sustainable, long term income. If you need money right now, this course won't help. If you want a sustainable career as a writer, this course is for you
I live abroad. Is this course for me?
One of the amazing things about freelance writing is that you can work anywhere. As long as you still have Internet access, you can build a successful career. So yes, the class definitely applies to you.
How long do I have access to the course?
You have access to the course for as long as you're a member of Writing Launch. That means you can start at any time and always have access to instructor feedback.
We Love It When Our Students Succeed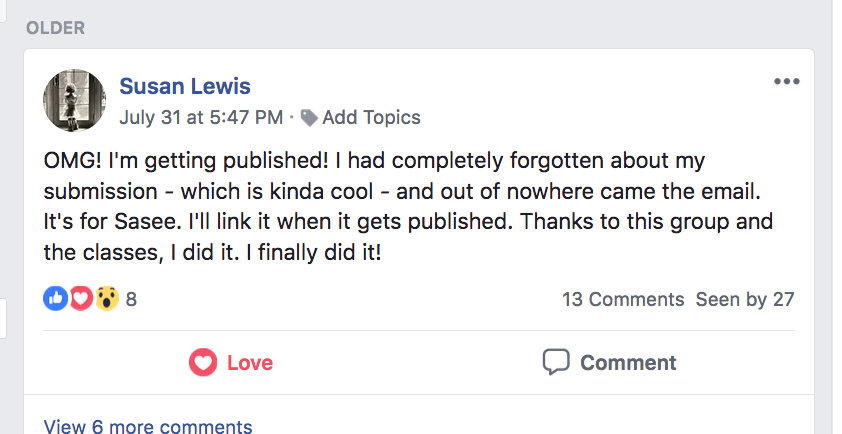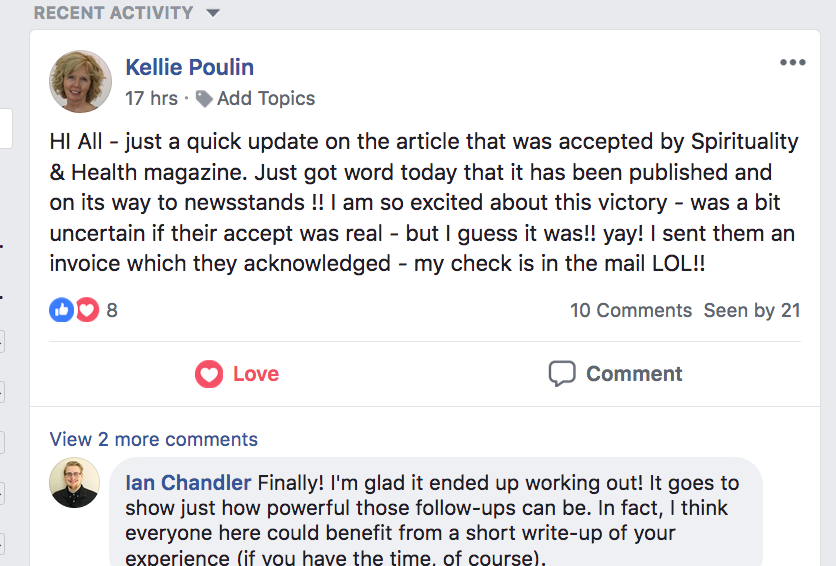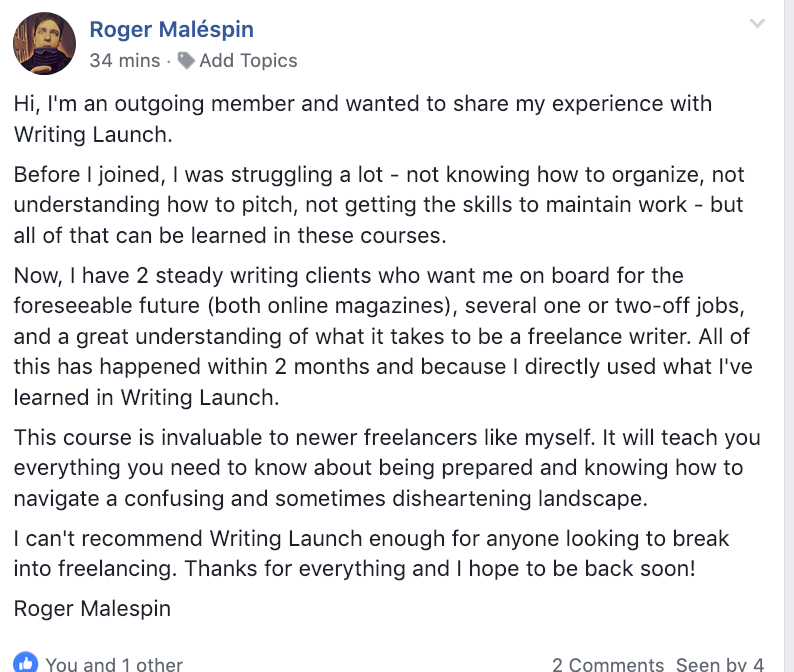 "After taking Ian's class, the money I was able to earn from my writing allowed me to finally visit my family in Brazil (it had been 5 years since I had last been there). The material in Ian's course is easy to understand and actionable, and you will come out of this course feeling (and acting) like a professional writer who gets paid for your words."
Mariana Abeid-McDougall
www.dreamsintogoalswriting.com
Enrollment is open for a limited time.