Launch a Successful Writing Career from Scratch
Without Any Previous Experience
If you've been waiting to start a freelance writing career but don't know where to start, this course is for you. Think of it as a shortcut to freelance writing success. Ian Chandler learned freelance writing the hard way: Through trial and error. He's distilled his knowledge into this six-week training program, so you can easily avoid the many pitfalls to success and grow your writing career with confidence.
This course gives writers the confidence, knowledge, and experience to pursue a successful freelance writing career.
The 6 Week Training Program that Gives You the Confidence to Succeed as a Freelance Writer
Comprehensive lessons that cover every aspect of freelancing, including getting started, finding high-paying clients, marketing yourself, pitching, building authority, and so much more.
Start from scratch, even if you don't have a portfolio or previous writing experience. Gain the knowledge and experience to build your career with complete confidence.
Study at your own pace with self-directed lessons, so you can learn at your own pace.
Full support on an as needed basis, so all of your questions can be answered.
Daily exercises and homework assignments to hone your skills so you can use them in real world settings.
Learn concrete steps to take to get paid as a freelance writer.
We Are Here for You Every Step of the Way
Ian Chandler, your course instructor, started his writing career from scratch. He's now a full-time freelance writer with years of experience. He knows what it's like to start without a portfolio or any previous experience.
When Ian started, he was a college student with no mentor, and no extra support from experienced freelancers. He had the passion and the drive to succeed, and he did it the hard way: by trial and error. Fortunately, you don't have to learn on your own. We created this course to give you a shortcut to success as a freelance writer, with the guidance from someone who has been there before.
Ian is there every step of the way to support you and your writing career. You'll get daily study materials and access to our support forum. Everything is available on our learning platform, so you can access it any time. That means you'll be able to study at your own pace, replay the webinars, and refer back to the course content at any point, even once the course is finished.
The Curriculum for Freelance Writing Success
| Module 1 | Week 1: Starting Out |
| --- | --- |
| Unit 1 | Day 1: How to Position Yourself for Maximum Success |
| Unit 2 | Day 2: Two Questions that Lay the Foundation of Your Success |
| Unit 3 | Day 3: How to Find a Niche that Works for You |
| Unit 4 | Day 4: The Freelance Writer's Guide to Social Media |
| Unit 5 | Day 5: Establishing An Online Presence |
| Module 2 | Week 2: Laying the Foundation |
| Unit 1 | Day 6: The Job Seeking Survival Toolkit |
| Unit 2 | Day 7: Marketing Yourself |
| Unit 3 | Day 8: Expert Interview with Jacob McMillen |
| Unit 4 | Day 9: Full-Time Vs. Part-Time |
| Unit 5 | Day 10: Communicating Your Value (So You Can Have a Massive Advantage Over Your Competition) |
| Module 3 | Week 3: Brass Tacks |
| Unit 1 | Day 11: Setting Rates Pt. 1 |
| Unit 2 | Day 12: Setting Rates Pt. 2 |
| Unit 3 | Day 13: Expert Interview with Ryan Waggoner |
| Unit 4 | Day 14: Establishing Authority In Your Niche |
| Unit 5 | Day 15: The Writer's Tactical Toolbox |
| Module 4 | Week 4: The Freelance Job Search |
| Unit 1 | Day 16: Developing A Job Seeking System |
| Unit 2 | Day 17: Search Tactics |
| Unit 3 | Day 18: Warning Signs |
| Unit 4 | Day 19: An Example Job Search |
| Unit 5 | Day 20: Networking: Your Portfolio of Credibility |
| Module 5 | Week 5: Pitching |
| Unit 1 | Day 21: Pitching 101 |
| Unit 2 | Day 22: Pitching (The Writer's Perspective) |
| Unit 3 | Day 23: Pitching (The Editor's Perspective) |
| Unit 4 | Day 24: Pitching Research – Finding Your Targets |
| Unit 5 | Day 25: Creating A Pitching Template |
| Module 6 | Week 6: Taking Action |
| Unit 1 | Day 26: The Pitching Hustle |
| Unit 2 | Day 27: How to Build an Idea Machine |
| Unit 3 | Day 28: Zeroing In On Clients |
| Unit 4 | Day 29: Freelance Troubleshooting |
| Unit 5 | Day 30: Learning What Can't Be Taught |
Who this course is for:
Writers who want to kickstart their freelance writing career
Writers who want to write for a living but don't know where to start
Writers who have been too scared and need encouragement to bring their career to life
Writers who want to work for private clients in a real world situation (working on descriptions, ad copy, etc.) and want to also freelance for magazines, blogs, newspapers, etc.
Writers who were successful at one point but don't know how to make it in today's marketplace
Who this class is NOT for:
Veteran writers already making a comfortable living with writing
Writers who want to publish only creative writing
Writers with less than 4 hours a week available to work on their writing career
We Love It When Our Students Succeed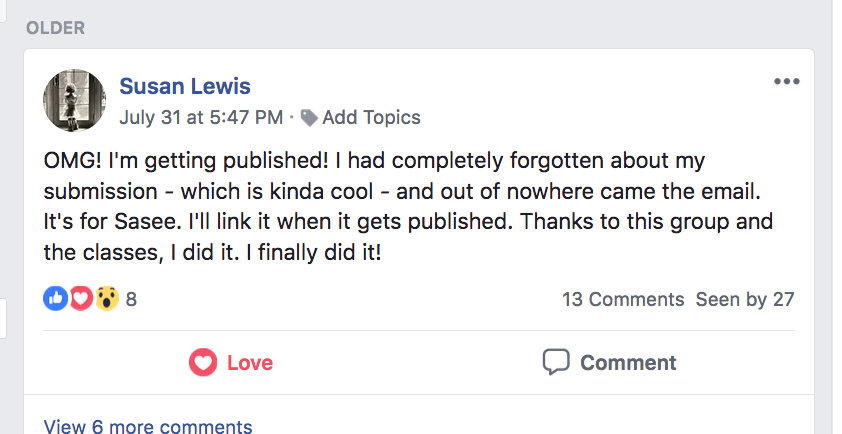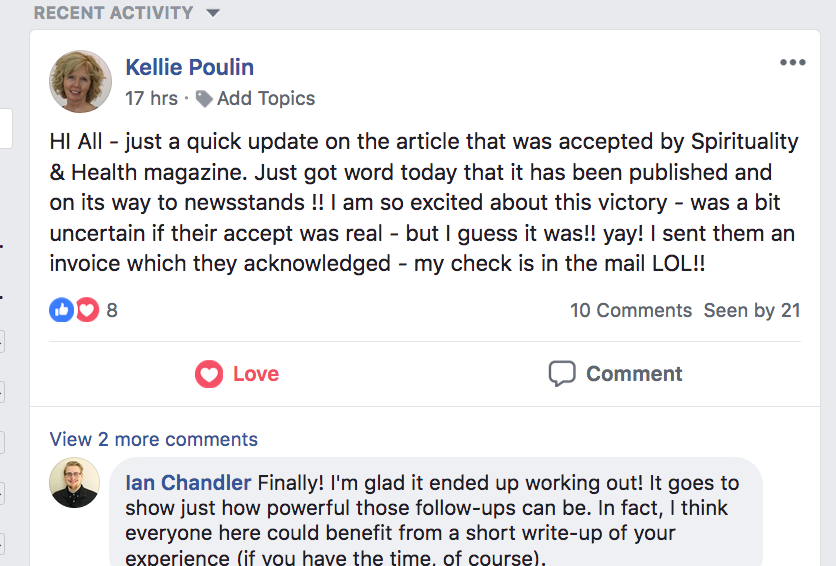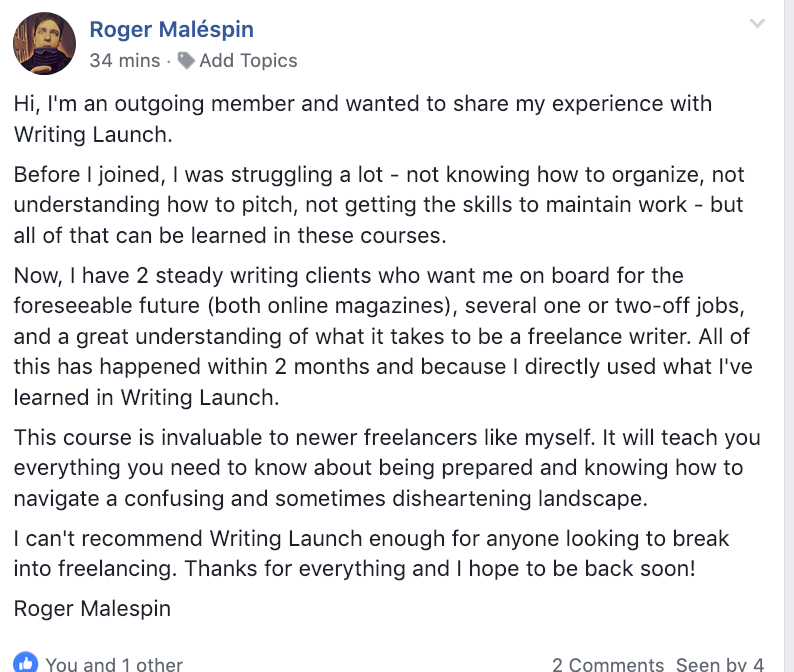 "After taking Ian's class, the money I was able to earn from my writing allowed me to finally visit my family in Brazil (it had been 5 years since I had last been there). The material in Ian's course is easy to understand and actionable, and you will come out of this course feeling (and acting) like a professional writer who gets paid for your words."
Mariana Abeid-McDougall
www.dreamsintogoalswriting.com
Enroll in Writing Launch to
Join the No B.S. Course on Freelance Writing
Enrollment gives you instant access to all of our courses, unlimited support and mentorship, access to our private community, and more.
Tuition is $47 per month for as long as you choose to be a member.
Your first month of membership is backed by our 100% money back guarantee, so you can enroll completely risk free. If you ever want your money back, simply ask. We'll give it to you, no questions asked.
Member Enrollment Form
Frequently Asked Questions
How much is the tuition?
Tuition is just $47 per month. That includes one month of membership with Writing Launch. The membership allows you to take all of our courses simultaneously, for as long as you're a member. This course takes 6 weeks to complete, so the total tuition for this course would be $94. (Compare that to a college course! We are much more affordable.)
Do you have a money back guarantee?
Yes! You get a 100% money back guarantee on your first month of membership. No questions asked. That means you can enroll completely risk free.
When does the course start?
The course starts as soon as you enroll. It is completely self-directed, which means you can fit the course into your schedule, based on your unique needs.
What if I am new to freelance writing?
This course is perfect for you – you'll learn how to build your portfolio and get your first paid writing gig. Plus, the course will guide you past many of the pitfalls that new freelance writers encounter.
What if I need to start making a full time income right now?
This is not a get rich quick scheme. You're not going to start making tons of money right away. However, the course will give you the tools, knowledge, and resources you need to build a sustainable, long term income. If you need money right now, this course won't help. If you want a sustainable career as a writer, this course is for you.
I live abroad. Is this course for me?
One of the amazing things about freelance writing is that you can work anywhere. As long as you still have Internet access, you can build a successful career. So yes, the class definitely applies to you.
How long do I have access to the course?
You have access to the course for as long as you're a member of Writing Launch. That means you can start at any time and always have access to instructor feedback.