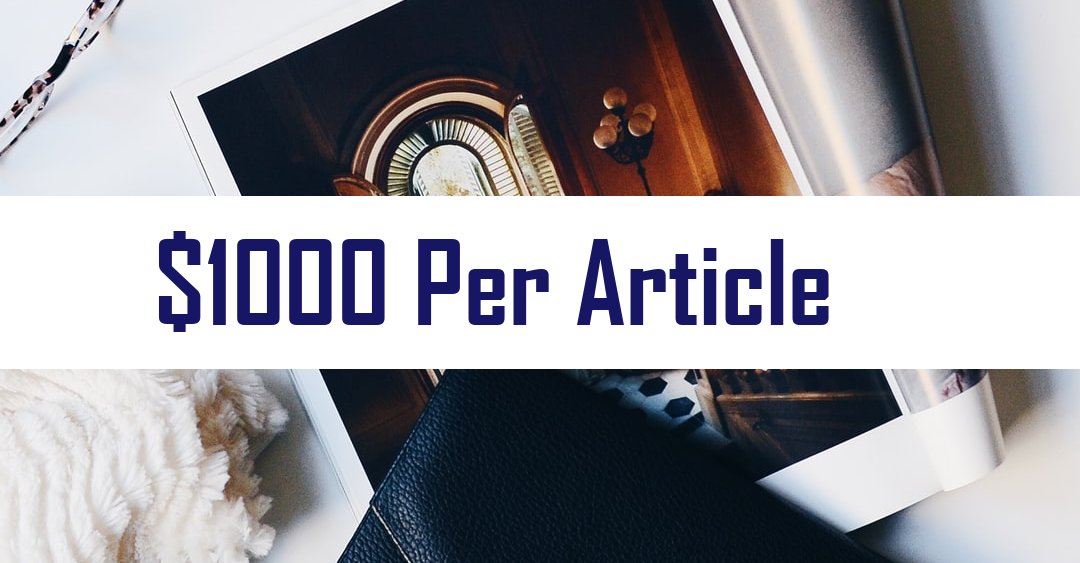 Dear Writers,
One of the best things about Writing Launch is our members only database of over 1,850 publishers. It is easily searchable, and organized by category.
Below is a list of ten publishers in the database that pay up to $1,000 or more per article.
If you want access to the full database, you'll need to join Writing Launch. We just opened enrollment – and are offering a free month of membership to new members. This means you can get everything we have to offer, completely free. Just be sure to use the coupon code DONATE.
Also – if you're an enrolled member of Writing Launch, please send us a draft pitch before you send it to the publishers. We often can suggest small changes that make your pitch much more likely to be accepted. As a member, we'll give you feedback on as many pitches as you want, as part of your membership. (Of course, in addition to our in-depth courses.)
If you have any questions, feel free to email us: support@writinglaunch.com
– Jacob Jans
Truly*Adventurous is a digital magazine that publishes longform stories by established and powerful nonfiction writers. About the kind of stories that they publish, they say: "Unlike most magazines, we have no topical mandates and couldn't care less about chasing the news cycle. We tell incredible true stories by amazing writers. That's it. We've published a lot of true-crime and real-life horror—subjects we love—but we also publish stories about wild adventures, clashing cultures, devilish mysteries, and unsung heroes." According to their editor, payment starts at $1,000 plus a revenue share model. Send your pitches to team@trulyadventure.us. Learn more about them here and contact them here.
Roadtrippers Magazine "celebrates road culture, Americana, and the great outdoors." They are always looking for new contributors to tell stories from the North American road. They are currently only accepting pitches focused on the United States and Canada. They typically pay $250 to $1,000 based on word count. Details can be found here.
GIA (Grantmakers in the Arts) Reader is a publication that is dedicated to the field of arts funding. They publish 3 times a year. Their content is focused on 4 primary areas which are "racial equity, arts education, capitalization, and support for individual artists." They welcome "submissions of previously unpublished content of various lengths, ranging from short reflections to long-form articles to poetry." They pay $150 to $350 for articles of 500 to 2,000 words, $350 to $1,000 for articles of 2,000 to 4,000 words, and at least $50 per poem. For details, read their submission guidelines.
Bridal Guide Magazine offers everything that is needed to plan a wedding. They offer the latest wedding trends, registry advice, honeymoon information, real wedding photos, beauty tips, and more. According to one payment report, they paid $1,000 for a 2,000-word story. Keep in mind that this is a publication that may have been affected by the pandemic, as expensive weddings are currently much less common. Contact them here.
The Correspondent is "an online platform for unbreaking news, committed to collaborative, constructive, ad-free journalism." They accept story pitches. They focus on stories that are "transnational, collaborative and constructive." They pay $0.40 per word which means that writers will get $600 for 1,500 words and $1,000 for 2,500 words. Details here.
Faith & Leadership is a biweekly, online magazine that is a learning resource for Christian leaders. They are always seeking new writers and stories. Their feature articles are 1,500-2,000 words, essays are 800-1,000 words, and Q&As are 1,000-1,500 words. They pay $1,500 for feature articles and $300 for essays. They also pay for mileage, parking, and other expenses. For details, read their submission guidelines.
LiisBeth is a "a reader and community supported zine that examines entrepreneurship, start-up culture, and the innovation eco-system through a progressive feminist lens." They pay up to $2,000 for articles. To learn more, read their submission guidelines.
Legion Magazine bills itself as Canada's military history magazine. They cover military history, military and veterans affairs, policing issues, issues of concern to senior citizens, health, recreation, humour and current affairs of interest to a national audience. Payment ranges from $150 to $1,200, plus 10 percent if they post the article on their website. Query first. To learn more, read their submission guidelines.
Writer's Digest is a widely-read and well-respected magazine about the art of writing. They accept both manuscript submissions and queries for articles that "inform, instruct, and inspire" readers. Writers can submit to any of their departments, including their "5-Minute Memoir," "Reject a Hit," and writing technique sections. They pay between 30 and 50 cents a word for articles up to 2,400 words ($720-$1,200), and they also work with a 25% kill fee. To learn more, read their submission guidelines.
Kitplanes Magazine is a magazine of kit and amateur-built aircraft construction. Contributions are mostly by aircraft builders and recognized experts active in the field. They accept articles on all phases of aircraft construction, from basic design, to flight trials, to construction technique in wood, metal and composite. They also review and analyze products and services related to amateur-built and kit aircraft construction. Short, focused technical articles are always welcome. Query first. Word count: About 2,000 for major features, unspecified for others. Pay: $250-$1,000. Details here.